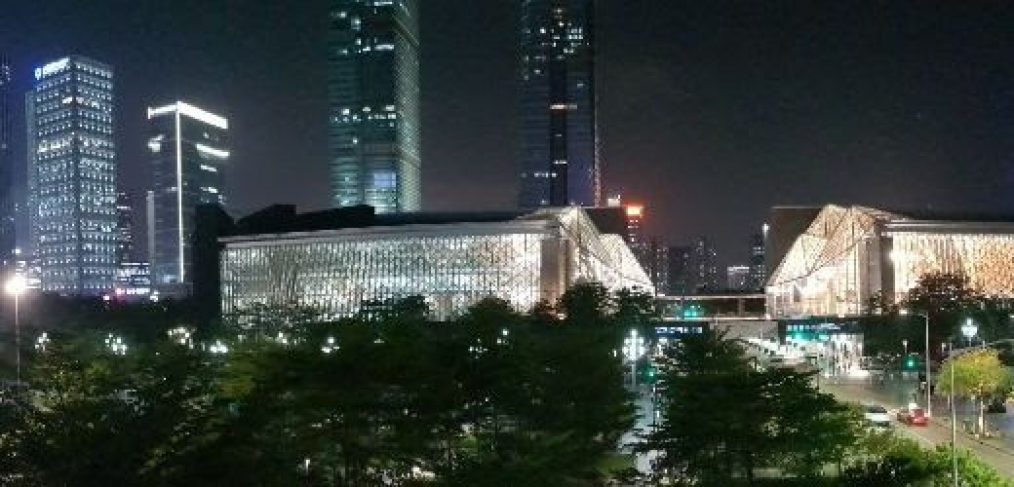 "China Reloaded" Part 5: Blockchain is just too geeky …
A contribution by Katja Nettesheim, _MEDIATE founder & managing director
Now, after all the excitement due to our award show "Digital Transformer of the Year" in the beginning of November 2018 calmed down, I'm very eager to resume my loose series of travel reports from China. Especially, because I have been keeping a particular gem for you: The Ubbey Box!
"Blockchain is just too geeky as a topic – we need a killer app for everyone"
In a huge tech business park, I visited a company called U Labs, producer of the Ubbey Box. Its founder, Keda Che, was really stunning:
As one of the foreign-educated Chinese that are now coming back home to make use of the great business opportunities there, talking to him was like talking to any – sophisticated – American business partner. No friction whatsoever – no wonder if you consider his CV: A serial entrepreneur in the blockchain industry, he founded his first blockchain start-up Ownership Technology back in 2015 with the help of California-based accelerator Boost VC. He worked at the Blockchain Research Lab, co-sponsored by Harvard University, Fidelity, Citi and NASDAQ in the US. All this on the back of a Master's degree in software development and information systems from Harvard University, and a Bachelor's degree in Pure Mathematics and Economics from The Ohio State University!!!This background paired with a Chinese business sense and very modest attire (as you can see below) makes for a fascinating and very impressive match!.

So what is the Ubbey Box?
Keda's mission is to pull up a sexy blockchain use case – and obviously earn a lot of money with it by mainstream adoption. My favourite quote of our conversation is:
"You know, blockchain is at the same time over- and underselling its potential: Overselling with respect to the long-term scenarios painted by the evangelists,underselling in short-term use cases. It is just still too geeky – we need to find the killer app, something even your Mom and my Dad would use!" 
(Which is probably the toughest challenge there is: my Mom using blockchain!)
That's why he decided to attack Apple and Dropbox at the same time by rolling out a cloud storage service on the blockchain – with two killer features:
Storage is decentralized – i.e. safe from hacking, censorship and State controls (which is decisive considering that the Chinese state has an opening into every iCloud registered from within China)
You can earn money with it (very important, given that mining is a Chinese popular sport).
In a nutshell, the Ubbey network is the first decentralized cloud ecosystemand it is powered by the Ubbey Box, a blockchain personal cloud device that acts as a node in the network, as mining equipment for the Ubbey Coin and as an offline local storage (if so desired). The network – staying true to its purpose – doesn't use "Proof of Work" or "Proof of Stake" as consensus algorithms, but "Proof of Storage". Hence, users can participate in this global network and mine tokens by providing their spare storage space. There are no monthly fees – the only expense for the user is the price of the Ubbey box.
Executing on this "killer app" he finally found after searching for it for three years, Keda had big plans when I met him back in May. But, needless to say, in the last six months he stayed true to his word:
His projected token sale in an amount of $20 mio. USD happened nearly to the point with $19,069,600 generated in July 2018 – no simple feat given the adverse market conditions in crypto currently.
His listing at IDEX, an Ethereum-based decentralized exchange that features Ethereum and ERC20 token trading pairs – as a precondition for UBBEY coins to be more fungible
And the web shop is live, so you can buy your world into a blockchain network and become a miner via the beautifully designed Ubbey box – looking like it was a hipster accessory from the latest streetwear label.
So as a real blockchain use case with the potential of mass adoption and as the prototype of an internationally bred, Chinese stamina'd badass entrepreneur the Ubbey Box and Keda Che are definitely worth following!
P.S.: And if you found this complicated: Look at this Fox TV host, when Keda Che went on to the Fox Business "Countdown to the Closing Bell", and discusses with anchor Liz Claman about how Ubbey Box is going to compete against Dropbox and Apple's iCloud here

Subscribe to our Newsletter and don't miss any news on "China Reloaded"!