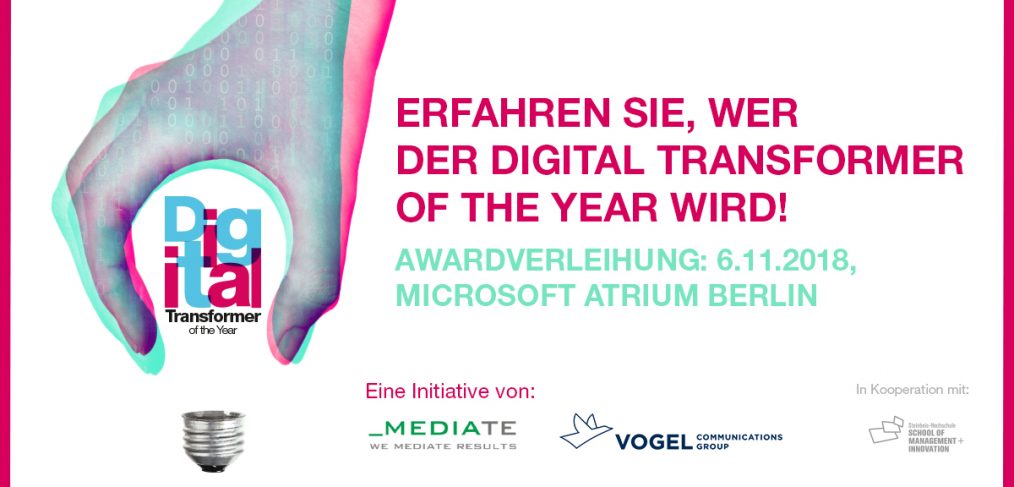 Es ist soweit – wir verkünden die Nominierungen für den "Digital Transformer of the Year"-Award 2018, der am 06. November 2018 in Berlin verliehen wird!
Der Award ist Teil der DTOY-Initiative, in der wir die Community der CEOs, CDOs und weiterer Transformationsverantwortlicher mit verschiedenen Angeboten unterstützen, diese herausfordernde Aufgabe erfolgreich zu bewältigen.
Dieses Jahr werden Transformationserfolge von Unternehmen in den Bereichen Automotive, Medien, Energie, Maschinen- und Anlagenbau sowie Industrie und Technik ausgezeichnet. Die Gewinner werden aus dem Kreis der Nominierten durch eine hochkarätige Jury bestimmt und erst im Rahmen der Veranstaltung exklusiv verkündet.
Übrigens: Für diesen Award konnte man sich nicht bewerben! In einer breit angelegten Befragung haben die jeweiligen Branchenkollegen diese Unternehmen als Vorreiter der Digitalen Transformation in Deutschland identifiziert.
Die Nominierten sind:
Read More

›